Member Directory
Michael P. Stafford

, Esq.

Attorney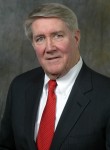 Counsel
Farrell Fritz. P.C.
622 Third Avenue, 37th Floor, Suite 200
Additional Information:
Michael P. Stafford focuses his practice on trusts and estates, commercial real estate and estate planning and administration both in New York and Florida. A frequent lecturer at continuing legal education (CLE) programs in both states, Mike's extensive Florida practice and his involvement in Florida Bar activities make him unique among New York State lawyers.
Return to Member Search Results
The unauthorized use of member contact information obtained from this website and related material is expressly prohibited, as is the use of the "send a message" contact form for solicitation purposes.