Member Directory

Domenick V. Macri, Sr.

, Sr., MST, AEP®

Financial Advisor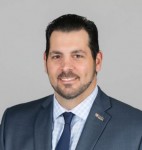 VP of Philanthropic Development
Gulfstream Goodwill Industries
1715 Tiffany Drive East
West Palm Beach,

FL

33407
Additional Information:
VP of Philanthropic Development at Gulfstream Goodwill Industries
Domenick Macri recently joined Gulfstream Goodwill Industries as their VP of Philanthropic Development to educate the community on the impact of Gulfstream's mission programs which include administration of the homeless centers in Palm Beach County, adults with disabilities training program, Charter School for 16-21 with severe disabilities, re-entry program. Prior to joining Gulfstream Goodwill, Domenick worked in the finance industry including U.S. Bank Private Wealth Management where he specialized in wealth planning for high net worth clients in the Southeast region of the United States, bringing more than 22 years of experience in trust administration, wealth transfer, financial planning and family office management.
Prior to joining U.S. Bank Private Wealth Management, Domenick worked at various organizations, including JPMorgan Private Bank, Iberia Wealth Advisors, a Private Family Office, BakerAvenue and Calamos Wealth Management where he led the company's successful expansion into the Southeast market.
Domenick earned his B.A. from La Salle University, M.B.A. with a concentration in financial management from Goldey-Beacom College, and also has a Master of Science in taxation and an estate planning certificate from Villanova University.
Domenick serves as Vice President of Programming at the Palm Beach County Estate Planning Council. Domenick is also very involved in his church, St. Patrick Catholic Church in Palm Beach Gardens. He resides in Jupiter with his wife, Jennifer, and 2 children, Domenick, Jr. and Ava.
Return to Member Search Results
The unauthorized use of member contact information obtained from this website and related material is expressly prohibited, as is the use of the "send a message" contact form for solicitation purposes.