April Membership Dinner Meeting - A Mock Trial - An Arbitration Experience
Date:
Tuesday, April 21, 2020
Location:
Mirasol Country Club
Speaker:
Alex Sabo, Esq., Jay Rosen & Matthew Thibaut, Esq.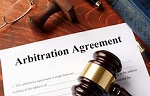 The April 21st Dinner Meeting has been cancelled. The Council will reschedule this presentation for a later date.
PBCEPC is carefully monitoring the public health response to, and guidance about, the coronavirus disease 2019 (COVID-19). The board of directors is following appropriate state and national guidance about managing business events, which includes information from the Centers for Disease Control (CDC), World Health Organization, U.S. State Department, etc.
As a result of the continuing impact of COVID-19, the board of directors has decided to cancel the April 21st dinner meeting. We will communicate over the next few weeks on the status of the May meeting as more information becomes available.
Wishing all the best to you and your families in the days and weeks ahead. We look forward to being able to get together again soon.

Alex Sabo, Esq. - Bressler, Amery & Ross Jay Rosen, Chairman Emeritus - Capitol Forensics, Inc.
https://www.bressler.com/people-alex-sabo https://www.capitalforensics.com/staff/jay-rosen/

Matthew Thibaut, Esq. - Haselkorn & Thibaut, P.A.
https://investmentfraudlawyers.com/matthew-n-thibaut/
PBCEPC appreciates the support of Platinum Sponsors:

Gold Sponsors: