Roundtable Discussion Breakfast - Strategic Philanthropy-What families are doing right?
Date:
Thursday, October 5, 2017
Location:
Mirasol Country Club
Speaker:
Catherine McDermott, J.D., LL.M.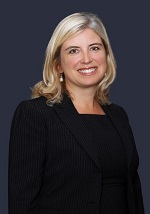 Catherine McDermott
Executive Director
Senior Wealth Strategist
Catherine works with ultra high net worth clients of UBS to help coordinate their investment, estate planning and philanthropic goals. Catherine focuses on developing and implementing creative and comprehensive strategies to assist clients with their complex financial needs such as preservation, transfer and management of wealth. She also reviews clients' estate planning documents to help ensure that the plan accurately reflects the family's philosophy, needs and objectives.

Prior to joining UBS, Catherine was a Senior Wealth Planning Strategist at Wells Fargo Private Bank, and before that she practiced law in the Private Client Group at the law firm Cadwalader, Wickersham and Taft LLP in New York, focusing on the representation of international and domestic ultra high net worth individuals and families.

Catherine received a B.A. from the University of Notre Dame (cum laude). She went on to earn a J.D. from Rutgers Newhouse University School of Law, where she was an editor of the Law Review. She also earned her LL.M. (Master of Laws) in Taxation from New York University School of Law.
Catherine is a member of the New York bar and a former member of the New York County Bar Association where she served as a committee member for non-profit organizations. She is a Board Member of The Glades Academy, a public charter school in Palm Beach County, Florida.

Roundtable Hosted by Palm Beach County Estate Planning Council Roundtable Meetings are for 2017-18 dues current Council members only.