February Membership Breakfast Meeting - Elder Issues Update Panel Discussion
Date:
Tuesday, February 19, 2019
Location:
Mirasol Country Club
Speaker:
Kamran Fotouhi, Ronald Long & Robert Mascio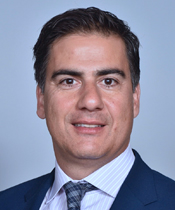 Registration for this event is closed as full seating capacity as been met. Please email admin@pbcepc.org if you wish to be placed on a waitlist in the event of cancellations.
Kamran Fotouhi
Capital Forensics, Inc.
Managing Director
Kamran brings over 20 years of financial industry experience, focusing on compliance and supervisory related matters for FINRA and major financial institutions. He has extensive experience handling complex matters including product compliance, supervision, financial and operational reviews, clearing firm matters, AML, and advisory program oversight. He is also proficient in conducting internal investigations, client remediations and managing regulatory examinations.
Prior to joining CFI, he served as a Surveillance Director at FINRA, where he identified and addressed current and emerging risks in conjunction with monitoring the oversight of 265 broker-dealer firms' compliance with industry rules and regulations. He has also served as Compliance Liaison for First Clearing LLC. (a Division Wells Fargo) where he was the direct point of contact for Chief Compliance Officers and Principals of over 100 introducing broker-dealers regarding compliance and risk matters.
Kamran is a Chartered Financial Analyst, and previously held Series 7, 24, 63 and 65 securities industry licenses.


Robert Mascio
Manager FINRA's Securities Helpline for Seniors®
Robert Mascio has been with FINRA for over 13 years and is currently a Manager for FINRA's Securities Helpline for Seniors®. Launched in April 2015, the FINRA Securities Helpline for Seniors® was designed to provide senior investors with a supportive place to raise issues and get assistance from knowledgeable FINRA staff members. The team also conducts specialized reviews of senior specific concerns, including allegations of abuse and exploitation of vulnerable adults. Upon the Helpline's inception, Robert was appointed as its first manager, tasked with overseeing the daily operations, as well as developing and growing the program.
Before assuming the role of Manager for the Helpline, Robert was an Examination Manager within FINRA's Florida District Office, where he was responsible for supervising a team of examiners conducting routine examinations of member firms. Prior to his time with the Florida District Office, Robert worked in FINRA's Market Regulation department conducting investigations into market irregularities and manipulations within the fixed income, equity, and derivatives markets.
Robert obtained his MBA from Florida State University and an undergraduate degree from Salisbury University.

Ronald C. Long currently is the Director of Elder Client Initiatives, reporting to the Control Executive for Wells Fargo Advisors "WFA" (a trade name used by Wells Fargo Clearing Services, LLC.) In this role, he works with business units to help them stay abreast of the changing regulatory and social environment concerning issues related to the aging client. Since 2006, Ron has taken a leading role in the securities industry in reviewing how it engages its older clients. He raises the issue frequently in meetings with securities regulators, adult protective services, and others impacting the brokerage industry and elder clients. He has spoken at numerous conferences for those in financial services as well as at meetings sponsored by the Institutes of Medicine, American Society on Aging, and the White House Conference on Aging to name a few.
Prior to his current position, Ron worked in Regulatory Affairs for Wells Fargo Advisors. In this role, Ron has visited securities regulators in all 50 states and the District of Columbia ensuring that they are aware of firm and industry concerns. He has been a panelist on regulatory issues and is very active in industry organizations, chairing SIFMA's State Legislation and Regulation Committee in 2015.
PBCEPC appreicates the support of Platinum Sponsors:

Gold Sponsors: